Early English Devereux
Walter Devereux of Weobley was the son of Walter Devereux of Bodenham and Weobley and Agnus Crophul. The Devereux family had acquired Weobley by the right of Agnes Crophul with her marriage in 1383. The Walter Devereux whose tomb is pictured married Elizabeth Bromwich and fought at Agincourt. He died in 1420, and was buried in St. Peter's and St. Paul's Church in Weobley.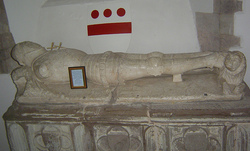 Walter Devereux of Weobley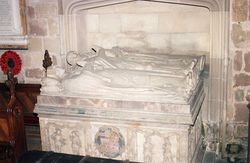 Walter Devereux was the son of John Devereux and Cicely Bourchier. He became the 9th Baron Ferrers upon the death of his father in 1501. He was elevated to the title Viscount of Hereford in 1550 for his service in the Wars in France. Created Knight of the Garter in 1523. His tomb is in the Church at Stowe by Chartley. He is flanked by his first wife, Mary Grey, and his second wife, Margaret Garneys.
Walter Devereux, 1st Viscount Hereford and 9th Baron Ferrers of Chartley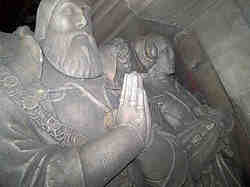 Tomb of Walter Devereux from a different angle showing 2nd wife, Margaret Garneys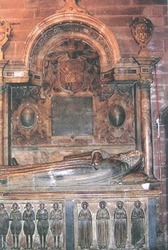 Edward Devereux is the son of Walter Devereux, Viscount Devereux and Baron Ferrers, and Margaret Garney. Elevated to title of Baronet of Castle Bromwich in 1611. He married Catherine Arden, and both were buried at Aston in Warwick. His descendants inherited the title of Viscount of Hereford when the line of the Devereux Earls of Essex extinguished.
Edward Devereux 1st Baronet of Bromwich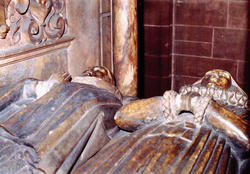 Closer view showing Edward Devereux and Catherine Arden
Bible of Robert Devereux, Archbishop of Rouen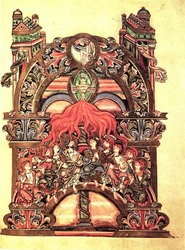 This page from an illuminated manuscript is believed to have been given by Emma to her brother, Robert, Archbishop of Rouen. It was in turn bestowed upon the Cathedral in Rouen whose construction was supervised by Robert.
Rouen Cathedral